NSDF Cargo Utility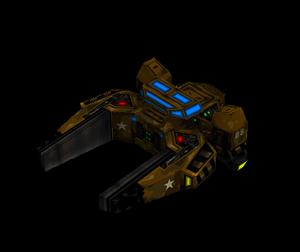 Information
Faction: NSDF
Name: Cargo Utility
Codename: Tug
Vehicle Type: Tug
Built By: Unit Factory
---
Health: 5000
Build Time: 5s
Scrap Cost: 6
The Tug is a hauling unit, used to pull large, heavy objects that are otherwise immobile. It has often proven successful at collecting and transporting alien artefacts.

Judging by the location that carried objects are located when picked up, it would seem that the two frontal arms are either electromagnetic or more likely use some form of biometal's unique hover characteristic in order to carry objects.
Although the tug is an NSDF utility unit, it doesn't follow the color scheme that the scavenger follows, instead it follows the color scheme of the Heaval Rig which is a brown color as opposed to the scavenger which is a dull yellow-orange.
8m/s maximum forward velocity
8m/s maximum reverse velocity
15m/s maximum lateral velocity
90°/s maximum rotation
Community content is available under
CC-BY-SA
unless otherwise noted.