NSDF Cargo Utility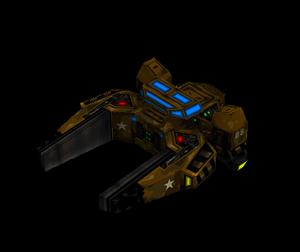 Information
Faction: NSDF
Name: Cargo Utility
Codename: Tug
Vehicle Type: Tug
Built By: Unit Factory
---
Health: 5000
Build Time: 5s
Scrap Cost: 6
Description
The Tug is a hauling unit, used to pull large, heavy objects that are otherwise immobile. It has often proven successful at collecting and transporting alien artefacts.
Attributes
Physics
8m/s maximum forward velocity
8m/s maximum reverse velocity
15m/s maximum lateral velocity
90°/s maximum rotation
Equipment
Community content is available under
CC-BY-SA
unless otherwise noted.