The History of Biometal Warfare:
The Resolve of the Stars n' Stripes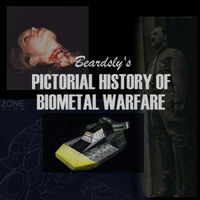 Information
Date: 1999
Source:
pandemicstudios.com
Transcript
Edit
Part One
Edit
With research and development moving along at full speed, both the Soviets and Americans hit a brick wall in their mutual lack of bio-metal. The supposed "vunder-substance" that Arkin ranted endlessly about was in extremely short supply on Earth. Neither side had enough to complete more than a few vehicles.
Fortunately for both nations, the Blitzkrieg mentioned in Kranken's memo took far longer than he'd intended. By early July of 1947, when the moon Nazis finally packed into large carrier ships for the invasion of Earth, they were tired, hungry, and desperate.
It didn't help morale at all when half of the German invasion force was obliterated upon descent to Earth by American rockets. And the ones who did reach the Arctic region had little time to prepare for battle, as they were greeted unceremoniously by the U.S.'s small but well-positioned new army. After an intense land battle that lasted only a few hours, the weakened German forces retreated back into space.
As this was happening, The Russians and Americans were already scouring the Earth in search of bio-metal debris from the shot-down carrier crafts. With the exception of an isolated mishap in the vicinity of Roswell, New Mexico, all of the bio-metal was recovered and immediately put into use on new units. Within days, both sides were following the fleeing Nazis back into space.
Part Two
Edit
Before the year was out, the German forces had been eliminated in an epic three-way conflict. But the war had taken its toll on the victors as well. The NSDF and CCA had grown too much too fast and the bio-metal supply had once again dwindled. Attention turned to the mounting tensions back home. During this time, the non-Earth forces enjoyed a period of relative peace.
It wasn't until the Bering Strait meteor shower of 1952 that the space conflict went back into full swing. Neither Stalin nor the newly elected Eisenhower could afford the risk of giving the enemy the upper hand, so both sides had to fight as if the world - perhaps the entire solar system - was at stake. While they put on quite a show for the masses down below, the true cold war was just beginning.
The following units developed over the course of the CCA/NSDF conflict to play a vital role in the NSDF's ultimate victory:
Unit Gallery
Edit
Scavenger
Edit
Recycler
Edit
Community content is available under
CC-BY-SA
unless otherwise noted.