The History of Biometal Warfare:
The Red Menace in Space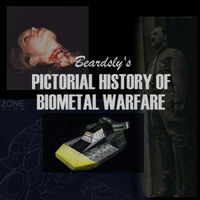 Information
Date: 1999
Source:
pandemicstudios.com
Transcript
Edit
The Americans weren't the only ones picking through the rubble. In those feverish days after the fall of Berlin, the Russians found their most valuable spoils of war in the ruins of bombed-out factories and underground laboratories. Though the papers and documents were destroyed, much of the hardware used to build the first German space vehicles was still in working order.
Without knowing what the finished product would be, Russian engineers began tinkering with the recovered machinery. It quickly became clear that the German technology was decades - no, light years - ahead of any other nation. It was also clear that these vehicles were not intended for use on Earth.
With the U.S. and the Soviet Union becoming fast enemies, the first step was to find out what the other side knew. Then, once cloak and dagger had leveled the playing field, the Soviets became consumed with building a new army and getting up there first. The Americans had Dr. Arkin and his firsthand experience, but one man could only know part of the picture for a process as complex as this. The Russians had the tools needed to do the job. The game had begun.
The following vehicles mark the height of Soviet ingenuity. They were every bit a match for what the Americans were building, and worthy successors to the original German designs.
Unit Gallery
Edit
Community content is available under
CC-BY-SA
unless otherwise noted.