Scion Sentry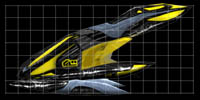 Information
Faction: Scion
Name: Sentry
Built By: Kiln/Forge
---
Health: 2000
Ammo: 2500
Built Time:
Scrap Cost: 50
Scrap Value: 10
---
Hardpoints

Ion Gun x2

Seeker

Description
Edit
The Scion Sentry is a morphing unit easily recognised on the battlefield. It is fast and can easily outclass a scout and strong against lightly armored targets, but vulnerable to more heavily armed craft unless gathered in groups and should not be used alone for attacking defensive positions. It is best acting as a heavier scout unit and providing speed and manoeuvrability to a strike force.
Attributes
Edit
Hover propulsion
Fast/medium speed
Equipment
Edit
Community content is available under
CC-BY-SA
unless otherwise noted.