Scion Mauler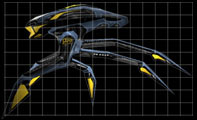 Information
Faction: Scion
Name: Mauler
Built By:
Forge
---
Health: 4000
Ammo: 5000
Scrap Cost: 70
Scrap Value: 25
Requirements: Forge, Dower, Stronghold
---
Hardpoints

Fang x2
Description
Edit
The Mauler is one of the most dangerous Scion units. It moves at medium pace when first starting to move, but charges quickly when moving in the same direction for an extended period of time. Unlike most Scion units, the Mauler is heavily armoured. It is well-armed and fast, making it perfect for attacks against almost any defensive position and an excellent siege unit. Its slow turn and limited view, however, mean quicker and lighter units can run circles around the Mauler in order to stay out of its range.
Attributes
Edit
Walking
Medium/high speed
Equipment
Edit
Community content is available under
CC-BY-SA
unless otherwise noted.