NSDF TU15 Construction Rig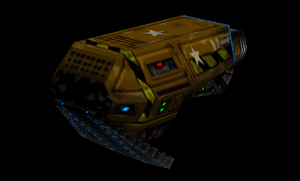 Information
Faction: NSDF
Name: TU15 Construction Rig
Codename: Heaval
Vehicle Type: Pre-Fabricated Building Assembler
Built By: Recycler
---
Health: 2000
Build Time: 10s
Scrap Cost: 8
The Heaval is an incredibly valuable high-end unit, capable of mind-numbing engineering feats. With adequate resources, it can assemble a fully-functioning base in minutes, providing everything from power facilities, to communication towers, to infantry barracks.
8m/s maximum forward velocity
8m/s maximum reverse velocity
8m/s maximum lateral velocity
90°/s maximum rotation
Community content is available under
CC-BY-SA
unless otherwise noted.