The History of Biometal Warfare:
Give 'em Hell: Harry Fights Back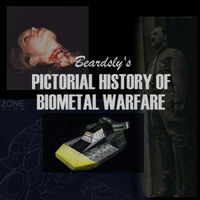 Information
Date: 1999
Source:
pandemicstudios.com
Transcript
Edit
Part One
Edit
As Allied forces rolled into Berlin, the remaining Nazi officials in charge of the space program scrambled to destroy all records of their work. And indeed they did a fantastic job, hurling mountains of documents into the flames of the burning city before Himmler's SS finished the job by eliminating the officials themselves.
It was pure dumb luck that an American foot soldier, checking for survivors in an abandoned Nazi communications bunker, found underfoot a curious memo from one General Kranken. His name and battalion were unknown to American codebreakers, but his security clearance checked out and the memo survived even the closest scrutiny to prove authentic.
The memo detailed Kranken's plans for one final nazi Blitzkrieg of unimagined proportions. The lunar forces would land in the hostile environment of the Arctic region, beyond the reaches of any earthbound military. From there they would pour out into every continent, first eliminating the unsuspecting armies of the United States and Russia, then later seizing control of the weaker enemy nations.
Part Two
Edit
Though it read like the wild fantasies of a children's' adventure serial, President Truman knew he had no choice but to take the memo seriously. Watching the skies and preparing for an invasion became the top priority of military scientists and engineers.
The following sketches were developed at this time by the U.S. government, under the supervision of Dr. Wilhelm Arkin; one of the few surviving engineers from the Nazi space program and a member of Jonathan Beardsley's original research station in the 1930's. With Beardsley uninvolved in the military aspects of the program, Arkin's knowledge was an invaluable, though certainly undesirable, necessity.
This last paragraph is a little unclear - I'm not sure why a Nazi is cooperating with the U.S. Also, the last sentence is particularly unclear - not sure what Beardsly being uninvolved with the military aspects has to do with Arkin.
Unit Gallery
Edit
Badger Prototype
Edit
Early Recycler
Edit
Razor Prototype
Edit
Pilot EVA Suit
Edit
Community content is available under
CC-BY-SA
unless otherwise noted.