NSDF TU12-BD Advanced Bio-Metal Fabricator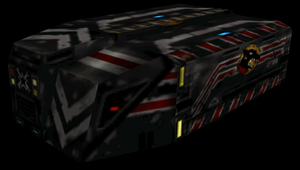 Information
Faction:
NSDF
Black Dog Squadron
Name: TU12-BD Advanced Bio-Metal Fabricator
Codename: MUF (Mobile Unit Factory)
Vehicle Type: Advanced Mobile Unit Factory
Built By: Recycler
---
Health: 6000
Build Time: 5s
Cost: 12
Description
Edit
The Black Dog Mobile Unit Factory is built by the Black Dog Recycler in order to manufacture advanced units. Like the Recycler, it deploys over geysers and uses the same biometal molding technique. Its multiple dynamic molding armatures allow it to build units with more intricate designs and moving parts. Most of the Black Dogs' offensive and defensive vehicles are built by the Mobile Unit Factory. Factories provide five pilots.
Unlike the other factions, the .odf-file for the Black Dog Factory does not have a buildTime entry. The game therefore defaults to 5 seconds.
Construction Menu
Edit
Community content is available under
CC-BY-SA
unless otherwise noted.