The Blast Cannon is an incredibly powerful and accurate beam weapon capable of inflicting high amounts of damage to enemy vehicles. It is the ancestor of the ISDF Blast Cannon seen in Battlezone II. Blast Cannons are utilized by Black Dog and NSDF Gun Towers, as well as the CCA Golem and CRA Yeren walkers.
It is considered one of the most powerful weapons in the game as despite having the worst ammo efficiency of all cannon-type weapons, not only does it outrange all of them (except a low-charge MAG Cannon) while still packing enough damage to destroy any single unit in the game with one full load of ammo, but the speed at which it unleashes said damage is unparalleled by any other weapon. Note that although the version found on the NSDF Gun Tower is the same as the one available on vehicles, the Gun Tower will never run out of ammunition, removing the weapon's greatest disadvantage. CCA players who can afford the scrap cost of manually installing a Blast Cannon (or two) on their Gun Towers should very well consider doing so.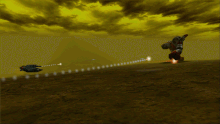 Because of its long range and high ammo use, the Blast Cannon is most effective as a defensive or surgical assassination weapon. It will not last long in a prolonged firefight but if one needs a specific target (usually an enemy player) dead in a hurry, it will not fail to deliver.
The Blast Cannon is also commonly used in Deathmatch maps that support it, however because of the normal abundance of Ammo Pods it is usually considered "cheap" and "overpowered". In Strategy matches, only the CCA and CRA can launch it from the Armory, and is used almost exclusively by players.
Fires a blue beam, but is otherwise identical to the standard version.
Fires a blue beam, but is otherwise identical to the standard version.
Community content is available under
CC-BY-SA
unless otherwise noted.