Battlezone Unification Project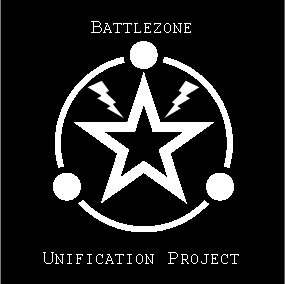 Information
Name: Battlezone Unification Project
Status: Defunct
Active: 2013-08-26 - 2016/17
The Battlezone Unification Project is a defunct effort to resolve the differences between the various segments of the Battlezone and Battlezone II communities.
Formation
Edit
The project was started in August 2013 as an effort to ease political tension between hostile groups, and while it gained support from a few individuals who were members of both communities it failed to draw traction from those who were only considered themselves members of one part. In some places, particularly battlezone1.org, the idea was itself met with hostility.[1]
Redundancy and Closure
Edit
Over time, the project became less an active effort to unify the communities and more a way of expressing support for unification. Following the release of Battlezone 98 Redux - which brought with it the extinction of Battlezone Enhanced and the myriad pirated copies of the game - activity in the various opposing groups supporting these iterations of the game began to decrease as users left or migrated to support Battlezone 98 Redux. The ongoing decrease in hostility in the Battlezone II community driven by the difficulty in running 1.2 on modern hardware, as players were forced to migrate to 1.3, was accentuated by calls for and speculation of a Battlezone II Redux. The construction of a bipartisan community built around the Steam Community forums and Discord server, which brought figureheads of the opposing groups together with members of each side, helped ease tensions further to the point that, by a year after the remaster's release, only a minority of extreme individuals remained hostile to one another.
The project was declared fully defunct in 2017, having been functionally redundant for just over a year.
The Unification project's logo was designed to include symbology from factions from both games; the outer disc of the ISDF logo, a star representing the NSDF, and two lightning bolts representing the CCA. Green-on-black and black-on-gold variations exist to represent the games' respective color schemes.
References
Edit
Community content is available under
CC-BY-SA
unless otherwise noted.