Battlezone Official Strategy Guide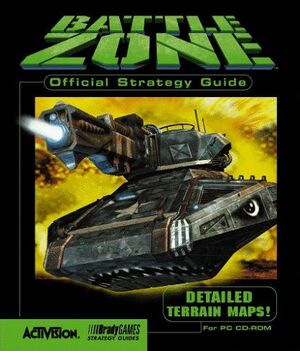 Information
Author:
Shane Mooney
Publisher: Brady Games
Pages: 216
Release Date: March 19 1998[1]
ISBN:
1-56686-775-4
The Battlezone Official Strategy Guide is the official guide for Battlezone, authored by Shane Mooney and published by BradyGames. It was written for the PC version of the game, but some of the information contained within also applies to Battlezone: Rise of the Black Dogs.[2]
The guide covers many aspects of the game, including:
Introduction: In-universe lore, including a letter from George Collins to new recruits and diary entries by Jason Bates and Alexi Doyestevski;
Game Menus and Controls: a four-page section detailing how to operate the game shell and describing the in-game controls;
Weapons of Destruction: 18 pages describing twenty-four of the game's weapons, with in-depth statistics and detailed descriptions;
Measurements of Units: Descriptions, statistics, loadouts and strategy tips for sixteen NSDF and six CCA units;
Tactics and Maneuvers: General gameplay tips covering radar use, build order and escorts;
The Missions: Detailed walkthroughs for the four Combat Exercises and 25 campaign missions;
Multiplayer Battlezone: A selection of basic and advanced tactics for multiplayer including unit grouping, resource management, target priority and identifying enemy players;
The Making of Battlezone: Four pages describing Battlezone's evolution from the 1980s original;
Battlezone Multiplayer Maps: Detailed monochrome renderings of the original 26 multiplayer maps
A sixteen-page index
References
Edit
↑ Battlezone Official Strategy Guide
Community content is available under
CC-BY-SA
unless otherwise noted.