Battlezone (2015)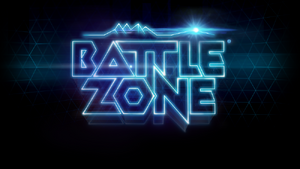 Information
Developer: Rebellion Developments Ltd.
Publisher: Rebellion Developments Ltd.
Platforms: PS4, PC
Release Date: TBD
Battlezone (2015) (working title) is a reboot of Atari's 1980 arcade classic. It features epic, virtual reality tank combat across huge, retro sci-fi environments. It is developed specifically for next-generation VR devices including Project Morpheus.
It captures the revolutionary feel of the first Battlezone while providing instant arcade adrenaline with deep tactical knowledge.
Story
The Rotberg Corporation: A glistening industrial complex dominating all that remains of the neon wastelands of Earth.
Humanity: Enslaved, exiled and on the edge of extinction.
You: Mankind's last hero. The planet's only hope.
Take control of The Cobra – the most powerful vehicle ever built – and experience the future of virtual reality combat.
Features
Retro-futuristic graphics: offers a rich, saturated visual style that pays homage to the original vector-based Battlezone
Diverse environments: with distinct color palettes, scale, structures, enemy, and atmosphere
Obliterate ground and air-based enemies across a huge map with procedural enemy spawn
Load the Cobra with a wide range of devastating weapons and awesome combat utilities. Outflank and outwit the enemy, cut through its legions of ground and airborne troops and blast your way to a final confrontation with the metal mind of the Rotberg Corp.
Images
Video
External links
Community content is available under
CC-BY-SA
unless otherwise noted.