Battlezone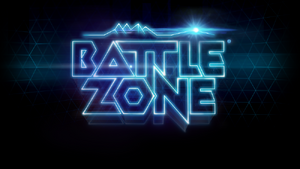 Information
Developer: Rebellion Developments Ltd.
Publisher: Rebellion Developments Ltd.
Platforms: PS4, PC
Details
Engine: Asura
Battlezone (working title) is a reboot of Atari's 1980 arcade classic announced at E3 2015 as a retro sci-fi themed title for eighth-generation virtual reality devices including PC and Playstation VR (then known as Sony Morpheus) on PS4.[1] Oculus Rift support was announced in September of the same year.[2] In late October 2015, it was announced that it will be released as a timed exclusive launch title for the former platform.[3]
Story
The remains of Earth's neon wastelands are dominated by the glittering industrial complex of the Rotberg Corporation, and humanity is enslaved, exiled and on the edge of extinction. Mankind's last hero and the planet's only hope takes to the cockpit of the Cobra, the most powerful vehicle ever built, to cut through the Rotberg Corp's legions of ground and airborne troops and blast their way to a final confrontation with its metal mind.
Features
Retro-futuristic graphics: offers a rich, saturated visual style that pays homage to the original vector-based Battlezone
Diverse environments: with distinct color palettes, scale, structures, enemy, and atmosphere
Obliterate ground and air-based enemies across a huge map with procedural enemy spawn
Load the Cobra with a wide range of devastating weapons and awesome combat utilities.
Screenshots
Videos
References
External links