Battlezone:
Rise of the Black Dogs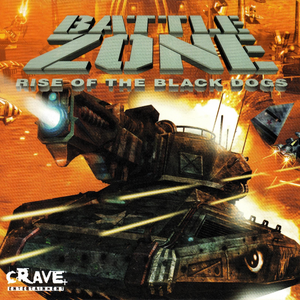 Information
Composer:
Matthew Simmonds
Release Date: 2000-03-29
Battlezone: Rise of the Black Dogs had a MIDI soundtrack composed by Matthew Simmonds[1], partially inspired by and expanding on the original. As the tracks are raw MIDI data they are numbered according to the order they are stored in in memory. Twenty-two MIDI files are stored in the game memory for use during play, with an additional five samples used in the menu system.[2]
Due to the Nintendo 64 sound chip's limitation of seven voices per track, the MIDI files stored on the cartridge are not divided into discrete instruments. Each track in these MIDI files was programmed to switch between the eleven instruments in order to deliver the desired polyphonic effect.
A re-orchestrated version of the soundtrack was released by the Heracles Brigade in 2015 as part of the Rise of the Black Dogs Decompilation Project.
Track ListingEdit
MIDI Files Edit
| # | Description | Level | Audio |
| --- | --- | --- | --- |
| 1 | A rendition of Battlezone's main theme, slightly shorter than the original. | Menu, Wrangling the Fleeing Herd, The Three Beacons, Io's Bridge, The Silencers | |
| 2 | Fast percussion and rapid synth bass, with slow brass and string lines. A bass string interlude half-way through introduces additional brass lines over the top. | Combat Driving, Sniper Training, Defensive Combat, Bio-metal Scavenging, Attack and Destroy, United We Fight, United We Die, Strike at the Heart | |
| 3 | Opens with a sharp synth sound and light brass pad, with the introduction of brass and percussion later on. Probably one of Rise of the Black Dogs' more identifiable tracks. | Red Arrival, A Nasty Surprise, The Golem Ambush, Grab the Scientists, Retrieve Relics | |
| 4 | Opens with sparse percussion and a solo string part, then builds into the latter half of track 3 from the original with the string line continuing over the top. | The Relic Discovered, Flying Solo, Exploratory | |
| 5 | Heavy percussion and a bass drone with low brass lead. Synth parts and a trumpet lead are introduced and the tempo picks up towards the end. | Tapping the Core, The Evil Battalion | |
| 6 | Industrial percussion and string pads carry through the first half of the piece, before a synth bass and fast-paced percussion appear alongside repeating brass and string patterns. | Total Destruction | |
| 7 | A slow thrumming rhythm with flowing strings, interrupted by a repeating bass and string stabs with brass lead throughout. | Escape from Mars, Bring it Home, The Ultimate Quake, Punishing the Black Dogs, The Last Stand, Prepare to Evacuate | |
| 8 | A plucked string bass opens the track, which builds with the introduction of several brass lines and a marching snare. The latter section of the original's track 4 with additional brass picks up in the middle and continues to a fanfare at the end. | Eagle's Nest 1, An Unexpected Connection, The Race is On, Reclaim our Base, Preparations, The Mammoth Project, Capture the Armory | |
| 9 | Based on the eighth track of the original soundtrack, with addition and variation of brass lead parts. | Controlling the High Ground, Clear the Path | |
| 10 | Based on track fifteen from the original soundtrack, with new string parts introduced part way through. Percussion drops out to make way for pizzicato strings, then resumes a slow marching beat. | Behind Enemy Lines, Precious Cargo, Evacuate Venus | |
| 11 | Militaristic marching snare with string ostinato and brass lead. A bass drone is introduced at the very end along with slow rising strings. | NSDF Arcade levels 1, 4, 7, 10 & 13 | |
| 12 | Marching snare and brass fanfares throughout. | NSDF Arcade levels 2, 5, 8, 11 & 14 | |
| 13 | Slow brass pattern with snare and a quiet synth bass. | NSDF Arcade levels 3, 6, 9 & 12 | |
| 14 | Lots of marching percussion and a bass drone with quiet brass lead. Slowly builds over a synth bass at the end. | CCA Arcade levels 1, 4, 7, 10 & 13 | |
| 15 | A slow march with bass drone, low brass bass and higher patterns at lead. | CCA Arcade levels 2, 5, 8, 11 & 14 | |
| 16 | Industrial percussion and rhythm synth, with string bass and leads. Gathers speed with the introduction of another synth towards the end. | CCA Arcade levels 3, 6, 9 & 12 | |
| 17 | Slow percussion with deep synth bass and lead. Brass chords introduced over the top. | Black Dog Arcade levels 1, 4, 7, 10 & 13 | |
| 18 | Heavy delayed snare and complex synth bass line, with brass chords and string pads, and a plucked string bass over the top. | Black Dog Arcade levels 2, 5, 8, 11 & 14 | |
| 19 | Wide bass sound and rhythmic synths with string pad and brass lead. | Black Dog Arcade levels 3, 6, 9 & 12 | |
| 20 | Percussion and tremolo string pads playing a rising pattern. Switches to pitched percussion later, which may be a MIDI programming error. | Unused | |
| 21 | Percussion and string sections playing a series of minor-key fanfares similar to that used on mission failure. | Unused | |
| 22 | A fast and upbeat track with brass fanfares and rising string patterns throughout. One of the most varied tracks. | Unused | |
| # | Description | Appearance | Audio |
| --- | --- | --- | --- |
| 1 | A brief series of percussion hits. | Crave Entertainment flash | |
| 2 | A brass fanfare with marching snare and glockenspiel. | Climax Group flash | |
| 3 | Militaristic percussion followed by a short rising fanfare. | Title screen | |
| 4 | A rising fanfare used on mission success. | Mission success screen | |
| 5 | A minor-key string pattern used on mission failure. | Mission failure screen | |
ReferencesEdit